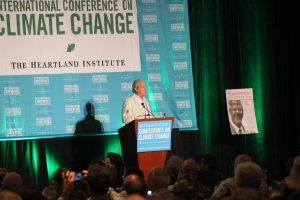 The Ninth International Conference on Climate Change, which took place on July 7-9, 2014 in Las Vegas, Nevada, USA, attracted some 650 scientists, economists, policy experts, and guests willing to question whether man-made global warming is a problem worth addressing. The event was hosted by The Heartland Institute, had 32 cosponsors, and featured 64 keynoters and panelists.
Ten awards were given for life-time achievement, courage in defending climate science, effective communication, and more during five plenary sessions.
The debate over the causes and consequences of global warming (or "climate change") is one of the great controversies of the modern era. While environmental activists and some politicians claim "the debate is over" and call for immediate action to reduce man-made greenhouse gas emissions, others say the science points to only a very small human impact – too small to warrant concern – and the costs of trying to prevent global warming far exceed the benefits.
Videos (and PowerPoint presentations, when available) from every presenter is below, listed alphabetically. The Q&A sessions after each breakout session is at the bottom of the list, organized by panel number. View the ICCC9 schedule here.
Video summarizing the conference produced by Paul Budline
"The New American" Videos from ICCC-9