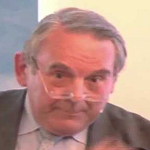 Helmut Alt is a professor of electrical and computer engineering at the FH Aachen University of Applied Sciences.
Alt studied from 1960 to 1963 at a School of Electrical Engineering, and subsequently became an engineer at Rheinischen Licht- und Kraftwerken GmbH, or Rheinische Light and Power Plants GmbH (RLK). After further studying electric engineering at RWTH Aachen, he attained his Doktor der Ingenieurwissenschaften in 1975.
Since 1975 he worked at RWE AG, now RWE Rhein-Ruhr AG, a subsidiary of RWE Energy AG. RWE is one of Europe's five leading electricity and gas companies, and the number one producer of power in Germany. Alt worked his way up, first as an engineer for special projects, and then as the Director of Contracts and Tarriffs (which later became the department of wholesale marketing) in 1980. In 1999, he became the Head of supply management in the Düren sales office.
In 1993, he was appointed an honorary professor at the University of Aachen by the Minister for Science and Research of NRW. He is also an honorary judge at the Social Court in Aachen.
---